TV talk show host Chelsea Handler dishes the dirt on how she hooked up with 5o Cent.  Even though people were questioning if it was real, apparently it  was real and 50 was really in to her….HARD! Sending roses, consistent phone calls, & even trying to warn her about his ex, Ciara, before Handler was to interview her on the show. She says: 
This is how it started, he was on my show. He was cute, and you know I flirt with all the cute guys on my show. And I thought he was just adorable. Then, he started sending me flowers but ridiculous amounts of like 50 white roses, and it was like laughable.
I was like, "Get these out of my office! This is so embarrassing." Then he started to call my office, and my assistant was like, "50 Cent is calling and I swear I think it is him." And I'm like, "Oh, my God."
Handler goes on to reveal that they dated regularly when Jackson moved to LA but the romance turned sour when Ciara got jealous and started blowing up his phone!
Chelsea reveals in her memoirs explicit details about her relationship with 50 Cent, but the most intriguing excerpts released deal with why the pair broke up.The answer? in a word… "Ciara" I really can't remember the exact the details, but I'll tell you what I can remember. I think one of his ex-girlfriends was coming on my show and she's one of those singers -I can't remember her name. She's really hot. He was dating her I guess previous to me.
Right before Anguilla, Ciara–that's her name!–was coming on the show, and he called me to tell me something about her like she still calls him all the time, and she still tells him that she loves him or something.
And I'm at my job, and I go: "Curtis, honestly this is like eighth grade sh*t. Why are you telling me this? This girl is coming on the show tomorrow, and now I have to look at her and think you guys have some weird thing going on or had going on."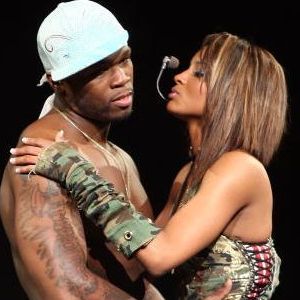 It was so juvenile. I'm at my work and I work my ass off all the time, and I have million different things and even though it's not like important work, I am working hard. I'm doing sh*t. He said, "I want you to hear this conversation" and he was like calling someone like a 3-way phone call. I go, "So you're telling me this girl wants to get back together with you, but she's upset that you're dating me, is that what you're saying?" He's like, "Yeah, so I just want you to know when she comes."

I think I called him the worst thing you could say to a black person short of calling him the N-word. I said something like you're like a street person basically. Something along the lines of being a gangster, and it was really, really offensive and I hung up and I've never spoken to him again.
You can clearly see the tension…. Ciara is such a desperate ho bag. I swear!